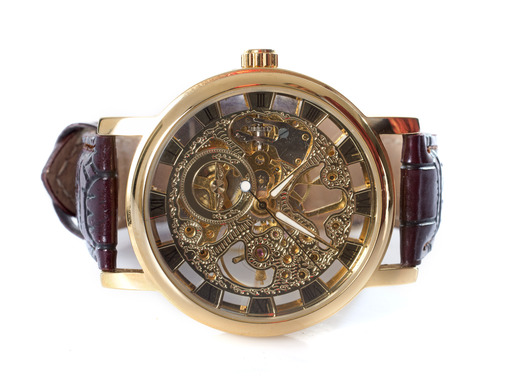 As an aficionado of fine watches, you already know the countless hours of loving craftsmanship that go into creating each and every timepiece. While much of this care and attention is devoted to the watch's inner workings, there is a new trend in timepieces called skeletonizing that is giving the external appearance of fine watches a stunning lift. Read on to learn more about this modern face-lift that is bringing the inner workings of timepieces to the forefront.
The technique of skeletonizing presents a tantalizing challenge to the designer: how to Pare down all of the external metal of the watch to enable as complete as possible a view of the timepiece's inner workings while still enabling the wearer to tell the time. In order to accomplish this delicate feat, the designer uses tools such as drills and small saws to create a large enough hole to insert a saw blade. Then, with infinite precision, holes are made in the metal to show the inner workings of the movement to full effect. Each incision into the metal must be fully beveled and polished to mirror smoothness. In addition, engraving is also used to give the piece an unparalleled, stunning look that truly turns the timepiece into an astounding work of art.
Equal part sculpture and fine timepiece, your skeletonized watch truly exemplifies the successful marriage of the practical to the luxuriously beautiful. Because your automatic skeletonized timepiece is virtually one-of-a-kind and represents premium quality and high art, you certainly want to do all you possibly can to take care of it. To that end, consider purchasing a fine watch winder box. Watch winders are storage containers for your watch or watches but with an intriguing secondary purpose. They can hold anywhere from one to as many as 16 fine timepieces, each locked securely into its own customized, motorized container that is designed specifically to wind the watch. Because all automatic timepieces must be wound either through the natural movements of the human wrist or manually, these boxes have been designed to simulate the exact kinesthetic requirements that your timepiece needs to remain perfectly wound according to its manufacturer's specifications.
Just as your skeletonized watch is a work of art, you can purchase watch winders that are visions of hand-crafted engineering precision and artistry. Alternatively, winding boxes can be obtained on even the tightest budget. Although the costlier units are generally more elegant and operate more quietly, even an economy model can provide you with safe, effective maintenance of your prized skeletonized watch for many years to come.