Every man needs his own personal space, a place where he can put the world aside for awhile and relax. As you think about the absolute essentials that must go into the man cave you are building, don't be content with only a big flat-screen TV and a comfortable recliner. Take a look at some of the most manly – and fun – man cave accessories that will make your space the envy of all of your friends.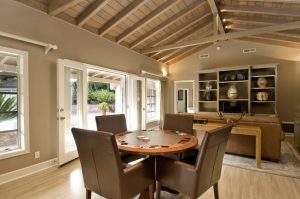 Walk-In Beer Cooler
If you are a beer lover of the highest order and you have some space to fill, why not give your collection of micro brews, cases, and kegs a cold place to reside? Some walk-in beer fridges may even come with a built-in draft tap. The only danger is that your guests might never want to leave.
Don't Forget that Classy Extra
Admit it. Even though you love your brews, there is also a part of you that craves timeless elegance and class. You already have an automatic watch, or perhaps even a collection of them. Add that perfect touch of practical tastefulness to your man cave with a cherrywood watch winder box. This jewelry box is so much more than just a storage case; it provides a luxurious, precision-engineered way to keep your timepiece perfectly wound according to its manufacturer's specifications. Keeping one in your man cave just makes sense since you'll be spending so much time there. All the while, the lustrous, rich cherry wood virtually screams manly aristocracy.
Coffee Tables for Real Men
Chances are, you'll need a place to put your watch winder. No, we're not talking about those frivolous, spindly-legged shin-bangers that your wife keeps in your living room. Find tables made out of genuine, antique oak whiskey barrels that are crafted to contain storage space as well. Now that is what a real coffee table should look like!
Let Your Beer Bottles Hang
Don't waste valuable space with all kinds of beer bottles jumbled haphazardly in your refrigerator. Instead, use magnets to hang them from the refrigerator's ceiling. At last, a practical use for those metal beer bottle caps. Or better yet, find ways to use empty bottles as décor items. Just make sure they reflect the level of sophistication that warrants a more upscale man cave.
Air Hockey and Billiards
When your team is so far behind that it's painful to keep watching, or when the sports scene is dull but you still want to have some fun, invite a friend or two over for a game of air hockey or billiards. You can buy gaming tables that can easily convert from one of these games to the other. It's great when you just need something different to do.
Beer Slushie Machine
Just when you thought there was nothing better than a cold beer, here comes the Beer Slushie Machine. This innovation allows you to top the beer of your choice with a cold, creamy, and frothy liquor frosting. This is a great addition for the suds-lover who has everything.
Whether you are slugging back the drinks with your buddies or just enjoying some well-deserved solitude, your man cave is the place to do it. Take some time to personalize your space; experiment with what makes you happy and appeals to your spirit of play. Then sit back, relax, and enjoy the man cave you have always wanted.