If you're like most people, you have a car to get quickly from place to place. However, that's where the generalities stop. The type of vehicle you buy will depend, to a great extent, on your priorities, your personal sense of style, and how much expendable income you have. If all you want is a vehicle to transport you from Point A to Point B, there are a number of great ones to choose from with options for upgrades to make your ride a comfortable one. But if status is more important to you than the practical realities, you might be more likely to gravitate toward a tricked-out sports car with a great deal of power under the engine. Believe it or not, the same analogy holds true for watch winders.
At this point, you might be thinking one of two things. The first is, "What's a watch winder anyway?" This ultra-chic jewelry accessory is used to keep mechanical watches wound even when you're not wearing them. It simultaneously provides a beautiful and secure storage place for your watches, while built-in turntables rotate clockwise and counter-clockwise to wind one or more timepieces according to exact manufacturer specifications. Your second question probably is, "Is there really a luxury market for watch winders?" The answer to that inquiry is an emphatic "yes." You would be astounded to see just how much some watch winders go for. Some wind one watch at a time, while others like double or four watch winders can handle more than one. What are you willing to shell out to own one of the crème de la crème?
DOTTLING GYROWINDER - $14,000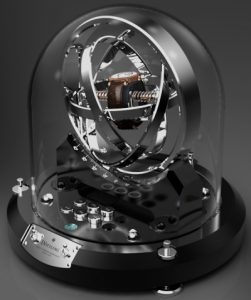 High-end watches need a little fun and excitement too, don't they? If you are willing to spend $14,000 to purchase the Dottling Gyrowinder, your Omega or Breitling will be the happiest timepiece on the block. With this winder, your watch can be spun around at a fantastic speed while being displayed in a way that is sure to garner oohs and ahhs from your well-heeled guests. Crafted by a company best known for its luxury safes, the Gyrowinder was inspired by NASA's gyroscope, the piece of equipment used to help keep astronauts from becoming disoriented in space. Unlike its competitors, the Gyrowinder can rotate your watch 360 degrees. A set of precisely calibrated counter weights helps to correctly balance all of your watches.
THE LUMISIDUS 11 - $38,000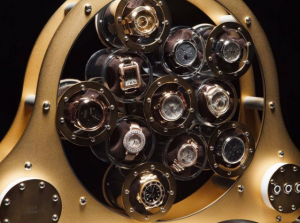 Keeping even one mechanical watch accurately wound when you're not wearing it can be a chore without a watch winder. Enter the Lumisidus 11, the stunningly stylish and jaw-droppingly costly way to keep up to 11 premium timepieces operating at full throttle. This baby will set you back a staggering $38,000, but imagine the convenience it will give, enabling your precious watches to be beautifully displayed behind crystal and illuminated by their own individual LED lights. It should be no surprise that this winder is plated with 24 karat gold, or that it has its own smartphone app that enables you to control rotation speed and frequency and even the color of the LED lights. Under the hood, so to speak, you will also find a Swiss-made motor of the finest order. The machine's motion is automatically programmed and constant, designed to wind even the most finicky mechanical watches perfectly. If you're dying to take this impressive watch winder home but can't quite come up with the cash needed to buy the 24 karat option, consider purchasing the non-gold alternative at just $22,000. Or if you're a novice watch collector and not quite ready to take the plunge on either of the models above, the scaled-down model is quite a bargain at only $8,200.
STOCKINGER BRABUS SV12 - $125,000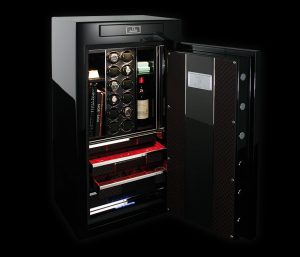 If ultimate security is as important to you as is premium automatic watch maintenance – and you have roughly $125,000 to spend (who doesn't?), look no further than the esteemed German safe-making company, Stockinger. They have partnered with the after-market Mercedes Benz tuner BRABUS to craft a safe-watch winder combination that will keep your valuables secure and your watches precisely maintained. This piece will wind up to 12 watches and is designed to suggest BRABUS supercars. Red Alcantara leather lines the drawers, and the safe handles are emblazoned with the BRABUS logo. Stockinger has also collaborated with watch winder company Beluwo to create the ultimate winding experience. The winders, fit precisely into the safes, can work with any of over 8,000 premium watches. They use a 16-hour active phase with eight hours of rest and can be set with a smartphone or tablet. Best of all, the watch winders are whisper quiet and highly reliable.
SCATOLA DEL TEMPO - $400,000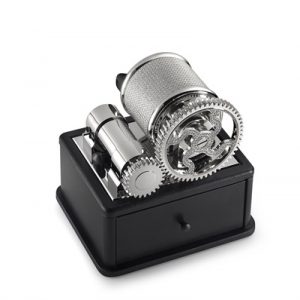 If your offshore account is becoming too bloated, lighten it considerably by dropping a handy $400,000 on a diamond-encrusted single watch winder from Scatola Del Tempo. For someone with a more modest budget who still wants his premium watch to be cradled and rotated in luxury, consider Scatola Del Tempo's 3RTM. This mid-range product can wind three watches and is hand-crafted in Italy out of fine brass and leather with a Swiss motor. Engineers and geeks will love the exposed gears and highly polished surfaces as well as the 10 programs that enable you to customize your winding settings. The battery backup is also a very useful feature, enabling you to take this beauty with you on the road.
Now that you have read what the rich and famous are buying, it's time for a bit of a reality check. As fantastic and beautiful as the above gadgets are, you probably can't justify the expense. Fortunately, you can still obtain a finely crafted, precise winder that will give your single timepiece or your entire automatic watch collection the treatment they deserve. At BuyWatchWinders.com, we carry an extensive selection of hand-made winders that are as beautiful as they are functional. Best of all, we can provide you with well-made, reliable products for every budget. Whether you're a new collector who is just beginning to experience the joys of owning a mechanical watch or a veteran timepiece lover of the highest order, there is a product with features to match your needs.