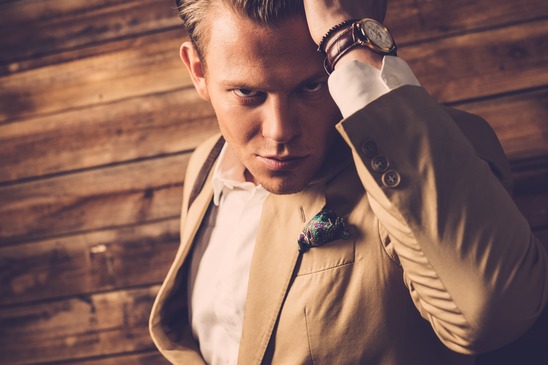 Having the ability to keep accurate track of time is an absolute essential in today's over-scheduled, Type A society. Unless you are sunning yourself on an island, every minute is precious and most of them must be accounted for. To meet our need to keep a constant eye on the hour and minute, people seem to be increasingly relying on their cell phones or on cheap fashion watches that often cost less than their last meal at a moderately-priced restaurant. In light of the many inexpensive options that abound, why do people, particularly men, still gravitate toward luxury automatic timepieces? This is a question well worth contemplating, since it tells us a lot about what we view as important in our society.
Precise Time-Keeping

Your automatic watch is not mass-produced by people who know little or nothing about the product; it has been made by true craftsmen who have spent a lifetime immersed in the intricacies of watch-making. Many of the top watch brands such as Patek Philippe and AudemarsPiguet take months or even years to make and are manufactured in Swiss facilities of the highest standard. Because of this attention to quality and detail, your timepiece will only need maintenance repairs once every five years or so and will keep excellent time throughout its long life.

Investment For The Future

Your watch is made of precious materials by a company whose name is synonymous with prestige. For that reason, you will find that its value will increase over time. As long as you care for it properly, your timepiece may one day be snatched up by a collector willing to pay many thousands of dollars for it.

The Value Of Luxury

There is no denying it: Automatic timepieces are beautifully crafted, often by hand, by artisans of the highest skill level. They marry beauty with function unlike virtually any other item. Indeed, the very act of putting on an expensive automatic watch confers status onto the wearer. Donning a Rolex or a Patek Philippe makes a clear statement: "I am a man who is wealthy and intelligent enough to buy the very best and I am proud to demonstrate my success to the world."

Your Watch As A Passport To Success

If you are like most of us, there probably has been a time in your life when you found yourself in a situation in which your merits were under-valued by those around you. Perhaps you didn't get a promotion because of your youth, or maybe you were not asked to join your fraternity of choice because people did not perceive you as high-class. In situations like these, luxury items such as a high-end automatic timepiece truly can function as your ticket to higher social status. This is because, like it or not, people tend to judge others based on their physical appearance. Sporting an automatic watch that virtually screams prestige demands that people take a second look at you and give you the respect you deserve.

The Accessory That Pulls It All Together

When you are dressing to impress, it stands to reason that you spend a great deal of time and attention on your suit as well as a coordinating tie. If you're wise, you will also focus on making sure your hair is combed and your shoes are polished, but that's not all. Wearing a luxury automatic timepiece can tie your entire look together and add that dash of taste and elegance that will set you apart. To the attentive observer, your watch can suggest careful money management, since it is an item you may have saved for a long time to purchase. It also suggests that you are a person who cares about detail and the finer things in life without being gaudy or garish.

Make A Statement About Your Unique Personality

The fashion options available to men are quite restricted, whereas the sky is the limit when it comes for ways that women can express their individuality via the clothing and jewelry they choose to wear. If you don't believe this, spend a day comparing the items in men's vs. women's clothing stores. If you want to make a statement about who you are as a unique man of discernment and taste, what you put on your wrist is one of the best vehicles. Whether you're a gadget guy or a sports freak or anything in between, there will doubtless be a high-end timepiece specifically tailored to match your personality.

Help You Appreciate Art Every Day

A premium automatic watch is much more than a simple teller of time. In fact, many models are exquisite works of art, both inside and out. Made with the finest of materials with exacting engineering and loving care, your watch truly is a work of art that you can appreciate every time you wear it. The watch just feels amazing on your wrist. What's more, your eye can't help but to be drawn to the symmetry of its lines, the way it shines or the beauty of the dial.

Your Watch As A Legacy

Your luxury watch will hopefully be something you wear and appreciate for many years to come. Even after you are no longer physically in this world, your watch can become a treasured heirloom to those who love you and wish to have something that reminds them of you. Investing in a beautiful timepiece now can provide someone you love with a very special gift at some point in the future.

Maintenance Is A Breeze

You may have hesitated to invest in a fine automatic watch because you believe it requires a great deal of maintenance. While it is designed to stay fully wound by means of the natural movements of your wrist, you know that you won't be wearing it every day and don't look forward to the tedious process of resetting all of the functions every time you want to wear it. Fortunately, enterprising companies have arrived at a solution that is as tasteful, beautiful, and functional as your watch itself: an automatic watch winder. Part jewelry box part programmable rotator, this device allows you to keep all brands of automatic watches fully wound and ready to be worn. Battery-operated watch winders make it possible to travel with one or even several automatic watches. With these beautiful and very useful devices, you can enhance your automatic watch's long-term performance while ensuring that it is stored safely in the ultimate luxury and elegance.
High-end timepieces are infinitely more than the sum of their exquisitely crafted and engineered parts. They are bestowers of status, bearers of legacy and beacons of beauty. Any discerning gentleman who takes the time to choose and wear one of these very special timepieces immediately separates himself from the humdrum and the everyday. By making a luxury watch a part of your life, you can transform the simple act of telling time into a revelation of your style and uniqueness.