There is nothing like the precision, beauty, and craftsmanship that are lovingly poured into luxury watches. Whether you own one or one hundred, you are captivated by the allure of these unique timepieces. As a collector, you probably find few things in life to be more exciting than placing your new luxury watch on your wrist for the first time. You have invested top dollar into your collection and want to keep all of your watches beautiful and impeccably maintained at the same peak performance as they had when you first took them out of the box. Follow these tips to enhance the life and functioning of your fine watch.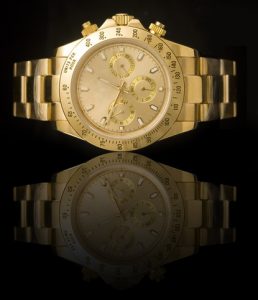 Keeping your watch in peak running order means ensuring that it is wound at all times. Particularly if you have a collection of several watches, this can be a tricky proposition. You do, after all, only have two wrists, not to mention a busy schedule. Instead of stressing about keeping your watches wound through your natural wrist movements or by manually turning the crown, it makes infinitely more sense to invest in a single or double watch winder, or perhaps one that maintains as many as eight watches, each at its own custom winding specifications. A watch winder is a secure watch storage box with an incredible additional feature: It contains one or more turntables to which your fine timepieces can be securely attached. The turntables are powered by quiet but reliable motors, and your watch is rotated at a specific number of turns per day, and in prescribed directions according to the protocol of its manufacturer. Maintaining your watch in a single or double watch winder ensures that its beautiful finish is not scratched or dented. Furthermore, it ensures that the timepiece is always wound and ready to be slipped on your wrist for a special occasion.
Next, keep in mind that each maker is unique, with the watches they craft possessing special features and idiosyncrasies. For that reason, become familiar with your watch's user guide. Visit the manufacturer's website, and do your homework. You'll be amazed at how much you learn and how many fellow collectors you get to know. When questions or problems arise, you will get the support you need.
Take careful note of your watch's water resistance. Some are specifically for divers; others should be kept as far away from moisture as possible. Unless your watch is specifically designated as a diver's watch, take measures to keep it clean and dry.
Temperature can also damage a watch if taken to extremes. Automatic watches perform best when kept in moderate temperatures and low humidity. Avoid leaving your timepiece in excessively hot or cold cars on a regular basis.
Finally, in the same way, you can probably guess that fine timepieces and chemicals should not mix. Exposing your watch to household cleaning solvents, petroleum-based agents, etc. has the potential to discolor or damage the finish of your timepiece. If the chemicals get into the automatic mechanism, even more serious consequences involving a protracted and costly visit to the manufacturer for repair might well happen.
Most of the tips we have discussed are simple. Treat your timepiece as you would any luxury item, not exposing it to extremes of climate or to other chemical dangers. Store it safely in a watch box and maintain its performance by keeping it wound. That's all there is to it. Now, the only other thing you need to do is enjoy your gorgeous timepieces.