If you are on the market for an automatic watch winder made from real wood, then you want a watch winder from American Chest. In addition to its storage capacity and reputation, American Chests uses the highest quality of real wood when crafting their winders. There is no right or wrong choice when deciding which type of wood you like best for your watch winder, but here are some qualities of each that will help to make your decision a little easier.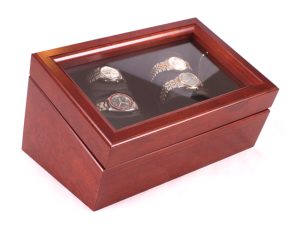 Cherry Wood
If you are looking for a wood with compelling color and grain patterns that is easy for a woodworker to shape, cherry might fit your needs. When it is first cut, the wood from the black cherry tree is a pale pinkish color. However, it quickly darkens and reddens with exposure to the sun. Cherry wood has the property of holding up quite well over time and being very stable in most respects; however, the color that gives its character may take a year or two to fully develop. When it does, you can count on having a piece, in this case a watch winder, that is both unique and full of beauty and character.

Mahogany Wood
Often characterized as an ideal candidate for craftsmanship, mahogany is straight-grained and soft enough to be easily cut and sanded, while also being hard enough to resist scratching. Long favored because of its resistance to decay and water damage, this fine wood comes into its own under a coat or two of finish. A true artisan can bring it to such a lovely shine that it will change from one rich shade of dark reddish-brown to another with the angle at which you view it. Because mahogany has been over-harvested to a great extent, the genuine wood from Cuba and Honduras is at a premium. If you are looking for luxury, durability, workability and beauty in your watch winder, this may be an excellent choice.
Remember, the automatic watch winder you choose will be the perfect accessory for your timepiece. It will provide you with years of expert winding, while simultaneously gracing any room with an air of beauty and elegance. You can choose a wood that will best complement your bedroom decor, or that will stand out and show off the beauty of your hand-crafted winder. Whichever winder you choose, it will help to preserve the life of your luxury watch for years to come.