Embed This Infographic
Copy and paste the code below to get this infographic onto your website or blog.
The Watches of Mad Men
There have been many things to love about Mad Men, the long-running AMC drama series set in the middle of the last century. Let's start with the series' amazing sense of style, with spot-on tributes to fashion and objects that many of us have never seen before. That fine retro sheen is applied to perfection by the show's savvy producers. Then there is all of the intrigue, the drinking, the flouting of manners and morals that is as seductive as it is destructive. Perhaps most adored was the character Don Draper, the debonair yet deeply troubled advertising executive played to perfection by actor John Hamm. Sharp and sophisticated, Don Draper's style was a hallmark of the show throughout its seven seasons, and no part of his appearance was more noticed than his choice of high-end timepieces. Here are the crème de la crème: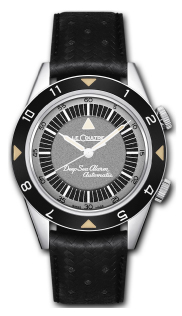 Jaeger-LeCoultre Memovox
For a gentleman of sophistication and style, how could there be a better choice than the Jaeger LeCoultre Memovox? State-of-the-art for its time, this piece had a round steel case with a silver or white dial and a black outer ring and married beauty with functionality. Its striking mechanism could be used as an alarm for upcoming appointments and, in later models, even for divers to warn them that it was time to begin their ascension. In Don Draper's case, it is quite likely that he used his Memovox to let him know when his next private meeting with a certain someone was about to take place.
---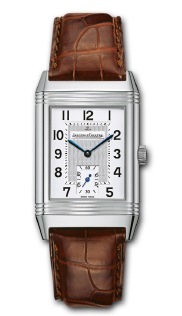 Jaeger-Lecoultre Reverso Classique
This beauty was first produced in 1931 with a name that means "I turn around in Latin." It was manufactured to endure the knocks and bumps of a polo game. To that end, its case can be swiveled around to protect the watch glass from breakage. An art deco classic, the Reverso is still very popular today and continues to be manufactured. The one that Don Draper wore with such finesse had a yellow gold face and a brown leather strap probably made of crocodile or alligator. A real status symbol, it is fitting that Don wears the Reverso Classique in Season 2. Not only did he get the raise that would have enabled him to afford it, but also his wife had his initials engraved on the caseback, which could be revealed when it was swiveled.
---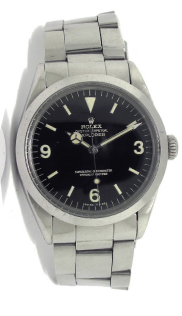 Rolex Explorer
Apparently, Don Draper loved his Reverso so much that he wore it for quite some time. However, by Season 4 he was looking for a change and upgraded to a Rolex Explorer. This model is easily identified by watch collectors because of the dial's 3, 6 and 9 Arabic markers. This is one of the first true classic Rolex sports watches, and its reputation and prestige are solidified for generations to come because author Ian Fleming adorned his character James Bond's wrist with this particular model.
---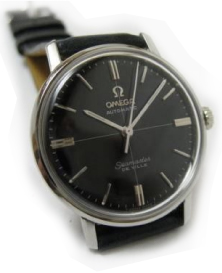 Omega Seamaster Deville
With Season 5 came the year 1966 as well as a new high-end watch for the ever-so-trendy and fashion-conscious Don Draper. His timepiece of choice was the iconic Omega Seamaster Deville. Although the Seamaster was marketed as a diving watch, the Deville series was designed to cater to those who wanted a dressier look. Equipped with a date indicator and a black dial, Don's Deville is tasteful and elegant. This watch was manufactured in the early to mid-sixties, making it quite historically accurate.
---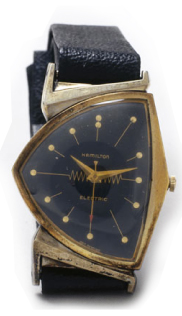 Hamilton Electric
This beauty made its appearance in a Season 3 episode and was worn by account executive Ken Cosgrove. Although this type of watch did not have a great deal of longevity, it certainly created quite a stir when it was unveiled in 1957. It used a battery to drive a complicated set of gears that pushed the hands. The problem was, it needed constant battery changes and just wasn't practical. A decade later, quartz crystal technology made this type of timepiece obsolete.
---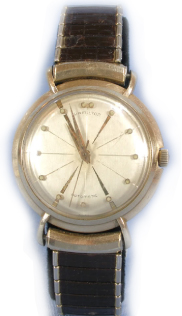 Hamilton Sputnik 1955 Edition
The official name for this watch worn by Keith Campbell throughout Season 5 was the Hamilton K-454. The watch had a yellow gold-filled case and a stainless steel back. The silver dial was studded with 18-karat gold markers with flush gold markers that aligned with the lugs on the case. This automatic watch, i.e. self-winding, was produced for three years and was designed to tap into the nation's burgeoning enthusiasm about space exploration.
---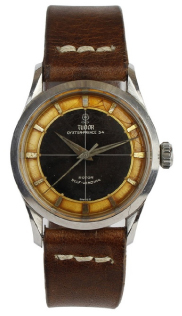 Tudor Oyster Prince
If Roger Sterling wore something, it had to be fabulous. That certainly was the case when it came to the Rolex Tudor Oyster Prince. This beauty featured the finest automatic movement that Rolex ever created and looked stunning on the wrist.
---
Mad Men may have aired its last episode and become part of television history, but its characters live on in the minds of millions. How could we ever forget Peggy, that pioneering feminist who turned up her pretty little nose at convention and did whatever it took to succeed in a man's world? We will also not soon put Don Draper's smoldering good looks or his consummate fashion sense out of our minds. Nor will we ever see a high-end men's timepiece without thinking how amazing it would have looked on his wrist. Although Don, Peggy, Roger, Keith, and all of the other intriguing Mad Men characters are nothing more than products of the vivid imaginations of this period piece's writers, you can actually find genuine examples of all of the timepieces Don Draper and the other characters sported over the course of its seven seasons. These watches require meticulous care to keep them running smoothly. For more modern automatic watches, this is easily taken care of through the use of a watch winder. You might have to have a very thick wallet to purchase these vintage beauties, but isn't it nice to dream?