Your automatic watch is probably one of your most prized possessions. Furthermore, if you are fortunate enough to be a collector, you have taken your passion for fine timepieces to the next level. Doubtless, you have studied the various brands, pored over websites, consulted with jewelers, and in every way done your homework before picking out your automatic watch. Now that you are considering buying a watch winder, perhaps the most important accessory you could contemplate, it is crucial that you are just as careful. You see, watch winders are as varied as the timepieces they help to maintain, made by numerous manufacturers at an array of price points, and in styles as unique as the customers who purchase them. Before you make an automatic watch winder purchase, you owe it to yourself – and your timepieces – to consider some of the factors involved.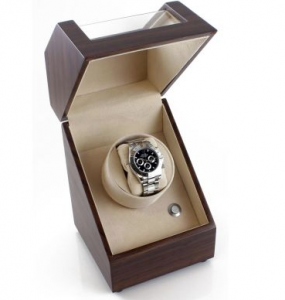 Why Buy a Watch Winder?
If you only have one automatic timepiece and plan on wearing it every single day for the rest of your life, you may not need to spend the money to purchase a watch winder. However, if you're like most people, there will be times where it will not be conducive to the wearing of a fine automatic watch. Inevitably, you will find yourself dropping your watch into a jewelry box with other pieces, where it can easily become scratched and dented. What's more, the timepiece will completely cease to work after only one or two days of motionlessness. The next time you decide to wear it, you will take it out of its box and be chagrined to find that the settings must all be re-calibrated, including the more complex moon phase and calendar functions. This is exactly why a watch winder is a must.
Style
In general, watch winders fall into three categories. Functional winders generally hold the watch on the exterior part of the winder. In most cases, they sit on a tabletop or a tall shelf. A step up from the bare-bones type are the elegant winders. These are true jewelry boxes, beautifully finished and suitable for display on a dresser or tabletop or for placement in a safe deposit box. Finally, there are the ultra-luxurious winders, which offer premium features such as heating to body temperature, atomic click-synchronized displays, and extra storage drawers.
Brand
Just as every watch lover is well-acquainted with names such as Omega, Rolex, and Breitling, the same holds true for watch winders. Several companies have made crafting these accessories their mission. If you are on a tight budget, you might consider winders from Versa. Though more affordable than most brands, they are still made from quality materials. On the other end of the spectrum are winders crafted by Wolf Designs. This company has been a world leader in making spectacular jewelry boxes and watch winders for over 175 years. With their fine hand-crafted wood and leather exteriors and whisper-quiet European-made motors, Wolf winders give the discerning, well-heeled watch owner numerous ways to customize their watches' winding needs. In contrast to Wolf's venerable history, the Modalo brand has only been on the scene since 2007. But don't let that deter you. In the past few years Modalo watch winders have quickly proven themselves in the market and developed a reputation for quality and value.
Winding Mechanisms
The idea of a watch winder is deceptively simple. It is meant to mimic the side-to-side movements of the human wrist that occur in a person's natural daily motions. To this end, the watch winder is designed to be a jewelry box with a soft, cushioned interior and one or more turntables onto which a watch or watches can be securely fastened. Thanks to an internal motor, the turntable is rotated in both clockwise and counter clockwise directions according to strict winding specifications that differ depending on the particular watch that is being wound. Some of the priciest winders also imitate the gentle rocking motion that the human wrist regularly makes. As you review your many winder choices, be sure that yours will accurately wind your watch as directed by its maker.
Motors
Many watch winders are hand-crafted out of the finest woods, metals, and leathers and are both elegant and beautiful in their own right. However, if they are not powered by a quiet, reliable motor, all of the arresting looks in the world will be rendered useless. As you choose the winder that is best for your watch and your budget, make its motor your prime consideration. Swiss and German-made models are generally thought to be the gold standard; however, the Japanese Mabuchi motors are also very well-respected and popular. Most connoisseurs recommend that you stay away from Chinese-made motors.
Travel Winders
If you like to travel across the country or jet around the world, you may well wish to bring one or more of your automatic watches with you. Just remember, don't leave home without a winder that can keep them well maintained even when they are not on your wrist. Since multiple watch winders can be bulky and tend to take up a good deal of luggage space, you might consider investing in a battery-operated single travel winder for occasions such as this. These packable machines are made by both budget and premium winder brands and run on batteries, eliminating the confusion that can come from foreign electrical current disparities.
As you can see, there are a number of elements that go into the purchase of a watch winder. Considering that the winder you ultimately choose will be a vital part of your timepiece's maintenance for years to come, it is an excellent idea to weigh all of your options before making a financial investment. Ultimately, whether you decide on a budget model that addresses only your practical concerns or a breathtaking piece that is as beautiful as the watch it is winding, you will know you have taken a step that will help to enhance your automatic timepieces' performance and longevity.